Cupping Dies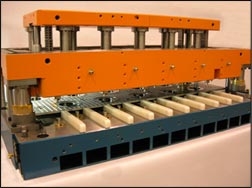 Our new and rebuilt cupping dies incorporate the latest design improvements including inner guide pins, cup marking systems, non-round tooling, die sub-plates, fixed nylon entrance blocks. Complete cupper modules are provided for steel or aluminum cups, sheet fed or coil fed.
Our latest innovation for reducing press loading and quieter die operation is the "Cushioned Piston". This patent pending design allows pistons to continuously increase draw pressure rather than sequentially increasing draw pressure as is commonly done in the industry. Our "Cushioned Piston" reduces the impact forces on the material being drawn and reduces the shock loading on the press and die set.
Shell Systems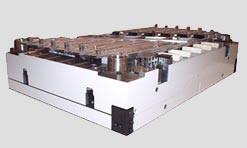 Shell or end system modules are available for high or low volume, steel or aluminum, sheet or coil feed. Shell systems are offered in single or double action designs that are cost effective and easier to maintain than the competition.
Metal Forming Systems
Our experience in high-speed production systems allows us to bring innovative production ideas to the metal forming business. We specialize in heavy duty stamping and drawing dies, servo controlled transfer systems and quick-change die-handling systems.
Lab Development Systems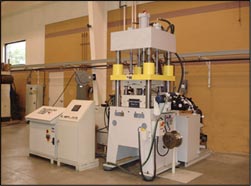 We have worked with many customers to design and build compact Lab development systems. These systems consist of coil handling, servo feeds, single station cupper with scrap cutter and single station redraw die. These systems can be run up to 50 S.P.M. and have adjustable stroke and phase angles. These Lab Systems allow product development and research to be accomplished away from the daily production requirements.
Spare Parts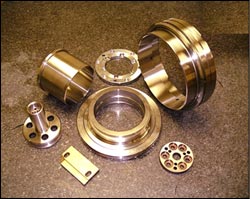 Spare parts are manufactured to exacting standards by people who take pride in their work. We can work to your prints, or we can create engineering drawings from your parts.
Service
Field service technicians provide installation and start-up assistance, personnel training and in-plant troubleshooting. We are ready to meet your needs at any time of day or night to keep you up and running.
Press Rebuilding
Our press rebuild service can make even the most worn out press as good as new for a fraction of the cost of a new press. Our rebuild presses come with warranties that guarantees our work.